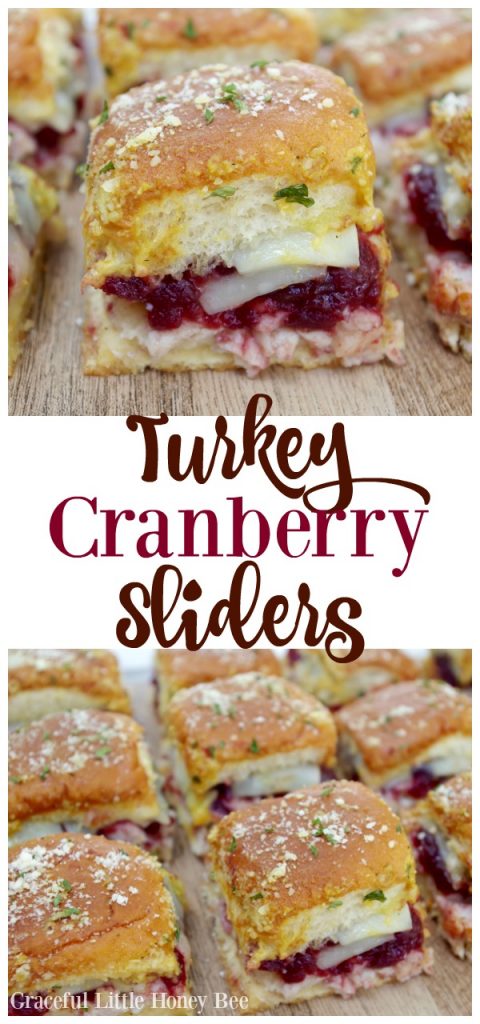 Thanksgiving is almost here, which means it's time to start stockpiling easy recipes that use up all of those delicious leftovers. These Turkey Cranberry Sliders fit the bill perfectly. Not only do they use up leftover turkey and cranberry sauce, but they are filling and taste amazing! Also, be sure to check out my other easy recipe for Ham & Swiss Sliders that I know you'll really love. Enjoy the recipe and holiday shopping friends! If you are in need of more easy holiday recipes then be sure to check out the links below.
[mpprecipe-recipe:153]
Turkey Cranberry Sliders
makes 12 sliders
1 package Hawaiian Sweet Rolls (12 count)
2 cups diced turkey
1 cup cranberry sauce or relish
6 slices Swiss (or favorite cheese)
6 tbsp butter
1 tbsp yellow mustard
1 tbsp Worcestershire sauce
1/2 tbsp dried minced onion
salt and pepper to taste
Parmesan cheese (optional)
dried parsley (optional)
Step 1: Preheat oven to 350.
Step 2: Cover 9×13 baking pan with foil. Spray with cooking spray.
Step 3: Remove rolls from package in one piece.
Step 4: Cut entire slab of rolls in half lengthwise. (You will end up with one slab of "tops" and one slab of "bottoms".)
Step 5: Place bottom slab in foiled cover pan.
Step 6: Layer with turkey, cranberry sauce and cheese. (NOTE: You may need to warm the cranberry sauce for a few seconds in the microwave to make it a spreadable consistency.)
Step 7: Add top slab of rolls.
Step 8: Melt butter in microwave and whisk in remaining ingredients (except parm. cheese and parsley). Pour evenly over rolls.
Step 9: Cover with foil and let sit for 5-10 minutes.
Step 10: Bake covered for 20 minutes.
Step 11: Uncover and cook 5 additional minutes.
Step 12: (Optional) Sprinkle with Parmesan cheese and parsley.
Step 13: Slice into individual sliders and serve warm.
Other posts you might enjoy: